Front brake pads GALFER FD460 - G1805 valid for Braktec Monoblock trial brake calipers. Made with sintered friction materials that offer high thermoresistance and optimum braking. 
Important, check that the brake caliper does not have the upper central bolt through. In case of having the central through bolt, the correct ones are the reference FD511 - G1805.
The following list shows the compatible models and years for the brake pads FD460 - G1805.
Trial front brake pads GALFER red FD460 - G1805 valid for the following models:
Front brake pads GASGAS TXT TRIAL (all models) 2014 to 2018.
Front brake pads Montesa Cota 4RT 2014 to 2018
Front brake pads Montesa Cota 300RR
Front brake pads Montesa 4-Ride up to 2018
Front brake pads TRRS One and TRRS X-Track 2018
Front brake pads Vertigo Camo 2016 and 2017
Front brake pads Vertigo Vertical 2018
IMAGE BRAKE CALIPER COMPATIBLE WITH GALFER RED BRAKE PADS FD460 - G1805
* Not valid for Braktec monoblock calipers with top center bolt (from 2018 on various bikes).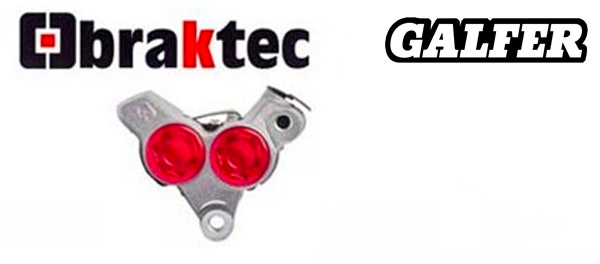 VÍDEO: HOW TO CHANGE BRAKE PADS IN A TRIALS MOTORBIKE? 
No question is available on this product.
But if in case you have any doubt you can raise your query.
Las mejores pastillas

Siempre he utilizado estas galfer rojas y además de buena frenada me han durado como 3 años. No merece la pena comprar unas malas para lo que duran en una moto de estas.
Need help choosing or can't find what you're looking for? We'll help you or get it for you!